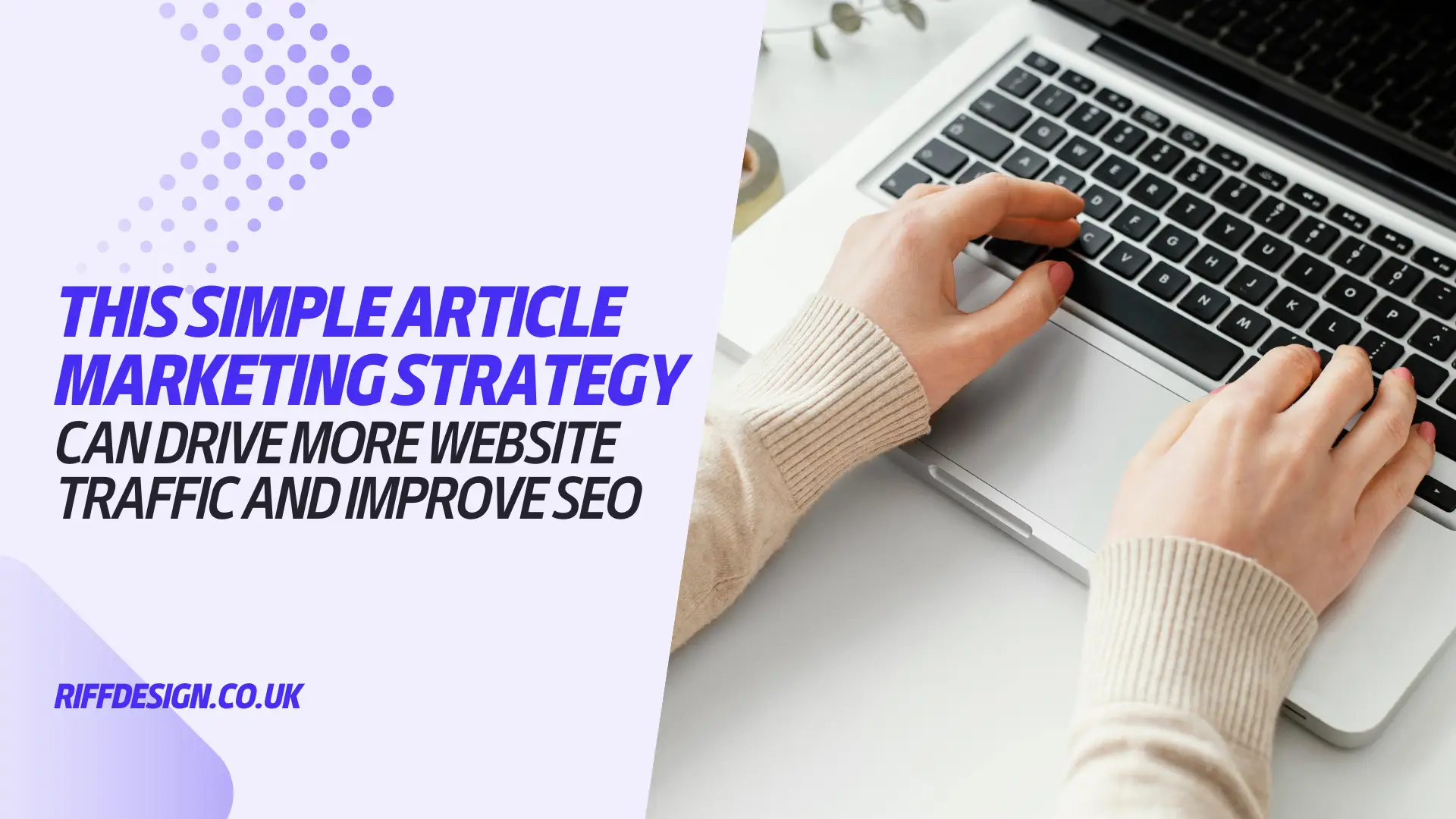 Making and designing a website is already hard. But what if you make pretty websites and no one visits them? That's when you need a good SEO article writer. A fantastic article can keep going for a long time. It can spread to different places and bring visitors for months or even years.
There are many ways to use article marketing. Some people say you should use it with other methods, while others like to use it alone. Either way, there are lots of good things about article marketing. Now let's learn the simple article marketing strategy that can drive more website traffic and improve SEO.
Table of Contents
Why is Expert Article Writing Necessary for SEO?
Writing an article may seem easy, but it actually requires a lot of research. The main purpose of your content should be to help people find solutions to their problems. Google likes to rank websites that have relevant and useful content.
Content marketing helps companies share their important keywords in a helpful and engaging way on their websites, which can also get more links to their site. This will make your website more important (like being an expert).
Content marketing and SEO need to work together to help your brand as much as possible. As an SEO article writer, you should create content as if you are a new brand, thinking about what search engines want.
It's also important to review your content like you are a brand with other content already, to make sure it is helpful to search engines. But what does it take to make content that not only gets more organic visitors but also reaches more people through different channels? Here's what we all need to know.
What is Article Marketing?
Article writing is a way to share helpful articles and blogs with others. You can promote them in different places. These articles can help you become an expert, get more links, and show up higher in search engine results.
Writing and sharing the article may seem easy, but it takes a lot of work, organizing, and planning to make it interesting for everyone. It's also a common way that business marketers use to get more people to visit their websites.
How Does Article Marketing Enhance Your SERPs Ranking?
Getting more people to visit your website is as easy as it sounds: you need to make sure your content has the right words that people search for on Google. Google is the main search engine that most people use (94% of them!), so it's important to follow their rules for SEO.
By doing this, your company will become more visible when people search for the words you want to be known for. Google will look at your content and decide how useful and good it is, and then show it to the right audience.
In your SEO plan, it's important to focus on content marketing. This means creating new and helpful content that uses the words that are most important for your business. It's better to add new content that brings value to your website instead of only changing what you already have.
If you do that, it could hurt your search ranking. Even experts at Hubspot say that making valuable content that shows your brand's values is one of the top 3 trends in content marketing for 2022 (and later).
Most importantly, Google likes to see new content that a professional SEO article writer makes. When you publish new content, it gets added to Google's list quickly and helps your ranking get better. The more content you make with the right words in the right places, the higher your SEO ranking will be.
SEO Advantages of Article Marketing
If you hire someone to write SEO articles for your website, it's really important to make sure your website is easy to understand. Having longer articles is good, but having lots of short ones is not. You should be able to read your website and know what the words mean.
This means your website should be easy for search engines to look at, put in order, and decide how important it is. And this is where article marketing can help!
With article writing, the person writing the SEO articles can post smaller pieces of content on your website. These smaller pieces are called "articles." It makes it easier for search engines to find and organize these smaller pieces. When people click on an article link on your website, they get more information about what they're looking for.
With article writing, the person writing the SEO articles makes content that is helpful and gives information to people who read it online.
When people search for something specific, like on Google, they get shown the websites and blog posts that are ranked the highest. This approach has some benefits that you can see.
1. Article Marketing Concentrates on Your Business Objectives
Not all content is the same. But if you hire an SEO article writer who knows a lot and has the experience, they can make really good SEO articles that always give you the results you want.
Making more money is the most important thing, but you also have other goals that can help you reach the main goal. For example, you want more people to find your brand when they search online. Or you want to give your sales team more chances to find new customers.
Having specific content can help you plan better, even if some goals go together (you need more people to find you to get more customers). For example, a good page that people first see can make more people find you and become your customers.
When you work with a good SEO article writing service that cares about your goals, you get better content that helps your business grow. You can tell them exactly what kind of content you need. Even with a good service, you still get original content.
With a service that costs less, you might work with writers who can't help you reach your goals. That means you won't get the results you want even if you spend time and money.
2. Create Expert and Compelling Content
Most people can write a simple idea on paper. But there's a big difference between writing clearly and being able to make others agree with you. As a business owner, you want the content on your blog to convince readers. You want it to make them believe in your business, products, or services.
If you try to write really good SEO articles by yourself, you might need help to make your content convincing. If someone on your team who isn't good at writing tries to do it, they might not make content that's as good as your brand needs.
That's why you need people who have experience and are good at writing. They will help you make high-quality SEO articles.
3. Create Focused Content for Your Audience
When you plan your company's marketing, it's important to think and work hard. That's why targeting the right audience for your campaigns is really important. If you want to get business clients, an article that is for regular customers won't help much.
Good SEO article writing services are good at making articles that are just for specific groups of people. They use the right words and write about things that the audience is interested in. They also choose words that the audience is likely to search for.
The best blog writing services can make content for different groups of people. For example, you might have products for beginners and experts. Some content should be for beginners, while other content needs to be more detailed and harder to understand.
How to Create Remarkable Article Content?
When you make a plan that works for your company and the people you want to reach, article marketing becomes easy. The steps might be a little different for each website, but they usually go like this.
1. Choose a Fitting and Popular Subject
Make a list of big topics that you think your audience might like. If you take the time to think about it, you might have a lot of good ideas. This is true for everyone, whether you're a blogger, a business owner, an SEO writer, or something else.
Let's say you're a freelance graphic designer. You might think that your customers are interested in everything about digital design. They might want to know:
What are the best tools for graphic design?
How can you make a logo?
Which fonts are good for business flyers?
How much does graphic design cost?
Which designs are the best this year?
When you come up with ideas for topics about your company and the people you want to reach, try to think of as many as you can. You need to do careful research to come up with ideas for topics about your company and the people you want to reach.
2. Create a Plan for Researching Keywords
It's really good to think of interesting topics for your articles. But it's even better to turn those topics into words that people look for. After all, there's no point in writing an article if nobody is interested in the subject.
You can use tools to look up different topics and see how many people search for them each month. This helps you decide if it's worth writing an article for SEO. You should also think about how many other websites are competing for the same word.
You might find a word that a lot of people search for. But if your website is small, it might be hard to compete with the others. In that case, it's best to start with a topic that isn't as competitive. Then, little by little, you can start using words that are more competitive.
3. Enhance Your Article Content
The next thing to do is make your content even better by using some SEO tricks. Here's what you need to do:
Make a title that people want to click on and has the right words.
Write a good description that tells people what your article is about.
Use a heading at the top that catches people's attention.
Use other headings that are simple and easy to understand.
Write interesting stuff in the main part of your article.
Put links to other things inside your article.
Make sure your web address is set up well.
Conclusion on Simple Article Marketing Strategy
Do you write articles for your website? If not, you should! Each article you write is a chance to get more people to read your website, sign up for updates, and buy things. That's why it's important to make sure your articles are good.
Here's a tip: Figure out what topics your audience likes and write articles about them. Make a list of ideas for articles so you always have something to write about and keep people coming back to your website.
Unlock the Potential of Your Website
Unlock the potential of your website with our expert article content creation services. Boost your SEO, attract organic traffic, and dominate search engine rankings.
Don't settle for mediocre content. Supercharge your online presence today. Contact us and watch your website thrive with targeted traffic and increased visibility!